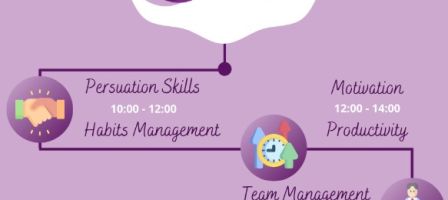 Description
Η Τοπική Επιτροπή της EESTEC της Αθήνας διοργανώνει το 12o Training for Trainers 1-10 Αυγούστου, κατά τη διάρκεια του οποίου έμπειρα μέλη του οργανισμού εκπαιδεύονται εντατικά προκειμένου να γίνουν Soft Skills trainers. Προς το τέλος του event οι ανερχόμενοι trainers καλούνται να οργανώσουν και να παραδόσουν τα δικά τους soft skills trainings, τα οποία και είναι ανοιχτά για να δηλώσεις και να παρακολουθήσεις. Ακολουθούν οι περιγραφές αυτών. 

🔸 Negotiation - Persuasion Skills
Have you ever found yourself in a position that you want to reach an ideal outcome in a negotiation but didn't find the right words? Have you ever wished to add a new weapon to your negotiation skill arsenal? We got you covered. In our session on negotiation skills, we are helping you to both better understand negotiations as well as give you state of the art tips on how to prepare yourself for your next meeting with the purpose of securing the best fundraising deals.

🔸 Habits Management
How many times have you said to yourself "Tomorrow I'll start working out/cooking, studying etc." but you never did? 😅
Or maybe,  tried to change a habit and failed? 😣
If you can relate, apply to our session and learn how you can make it work! ✨

🔸 Motivation
Did you come to this MW just for the fun? Well, fun is a source of motivation but what happens when it's not enough? In this session you can learn about how motivation works, how to deal with the drop of it and what can you do to motivate yourself while working on a project. 

🔸 Productivity
Title: Battling your animal self 
Have you ever wondered why do we struggle with doing impactful tasks and procrastinating instead? What if I told you that the answer is - It's because you're human. Inside of you, there's a constant battle going on between the rational you wanting to achieve great things and animal you, just wanting to survive.
We're going to show you why are we prone to procrastination and losing focus. Then, we'll give you some weapons to aid you in this battle.

🔸 Leadership/Team management
Title: Discover and strengthen the leader in yourself
Who is actually a leader? Are you born for that? Is it possible to become one? Can you develop one in yourself? During the session, we will answer all those questions. We will also try to understand the importance and the role of a leader in a team.

🔸 Communication Skills
Have you ever experienced misunderstandings with others due to lack of communication? Have you ever felt that you could not express your thoughts as you wished? No problem, get to read a little bit more of this description.
You will be aware of the process of listening and speaking, and discover new information to apply to an action that is done the 90% of our time. 
For the last part,  we will summarize everything in order to use it in giving constructive feedback.

🔸 Creativity
What comes to your mind when you hear the word creativity?  Many of us usually say that we are just not the creative types but what do we actually mean by referring to creative thinking? If you would like to learn more about the art of thinking creatively and how it can be achieved join us in the creativity session 😉.

Σημείωση: Υπάρχει περιορισμένος αριθμός θέσεων τα trainings!! Θα λάβεις ενημέρωση για τη δική σου συμμετοχή το αργότερο 1 ημέρα πρίν.